Search
Sign in
Mercedes ML W163 1998-2005
Dispatched within:
24 hours
Price:
$39.50
$50.50
39.50
add to wish list
Description
Product name: Seat occupancy sensor emulator
It makes an airbag always work during an accident. The emulator sends to an airbag control unit the same signal as that sent by a mat while the passenger is sitting. After installing the emulators (seat mat emulator and seat belt emulator) the whole system works normally, the passenger airbag will always work in case of any accident. 
This emulator is for MERCEDES ML W163 1998-2005 with a 4 way mat connector (3 wires inside). Before purchase, please check if there's such mat connector under the seat.
The emulator contains a plug - easy to install, replace mat connector with the emulator connector.
Please attach to your order the following information: the car model and its manufacturing date (attention! This is not the same as the date of first registration). 
If you are not sure if this emulator will be suitable for your car, please contact us: contact@blshop24.com 
This emulator can be an ideal solution if you want to install sports bucket seats in which it is impossible to install a seat occupancy sensor. 
QUALITY GUARANTEED!
Do not buy an emulator of an unknown origin. Our emulator is produced in European Union. It is projected and made by car electronic specialists. We have already sold hundreds of them in European market. Each emulator is tested by plugging into installation.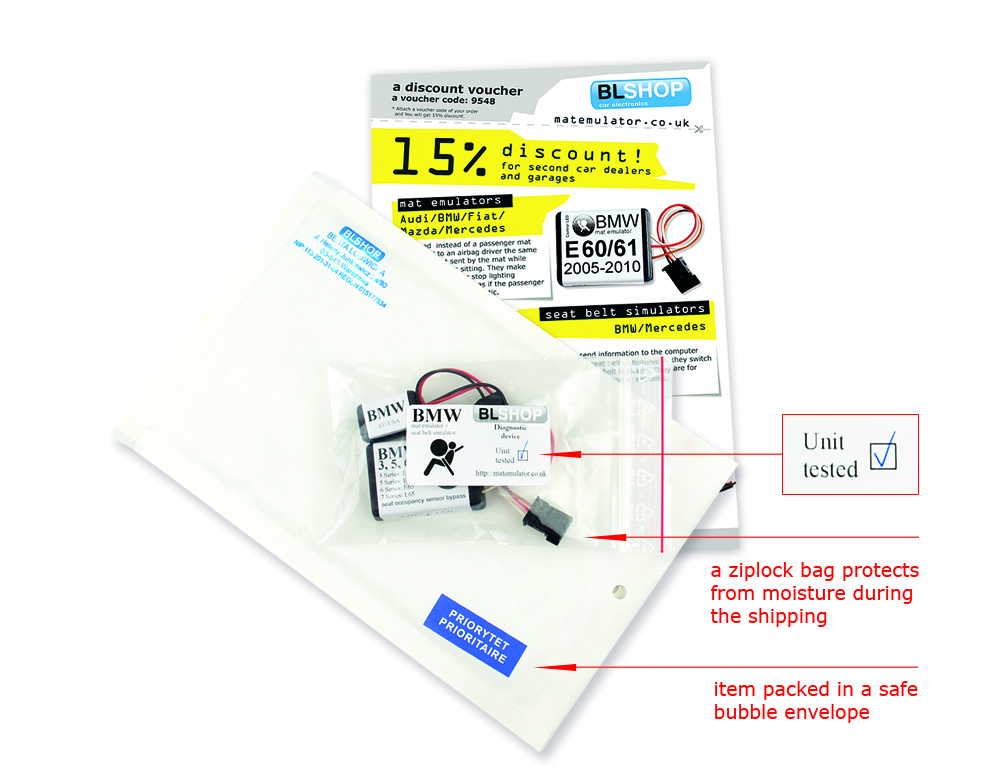 ---
LEGAL NOTICE
Emulator is not a factory-made equpiment of BMW, Mercedes, Mazda, Fiat cars and should only be used for diagnostic. By clicking buy you agree that we are not liable for any damages or losses that may arise from the use of the emulator. Also make sure that fitting this module is not against the law in your country. By clicking buy you agree that we are not responsible for any problems on your airbag system as this is a simple proven resolution for a faulty passenger seat occupancy mat only and you wish to temporarily eliminate the occupancy mat error. Under no circumstances, including but not limited to negligence, shall the seller be held liable for direct, indirect, incidental, special or consequential damages including but not limited to harm to any equipment and/or for personal injury/death arising out of the use, or the inability to use the bypass item sold on this website.
Product reviews (0)